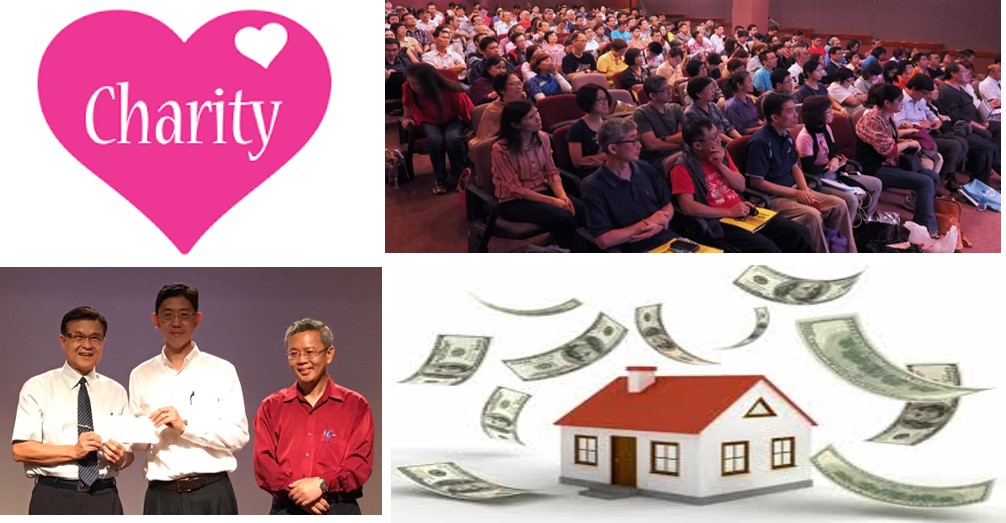 Dr Tee, Ein55 Mentor & Graduates have together organised 4 charity investment courses (REITs/Business Trusts in Nov 2015 and May 2017, High Dividend stocks in Mar 2016, and Discounted NAV stocks in Sep 2016) in the past 2 years, donating net income of around $70,000 to Tzu Chi 慈济 (Singapore). We hope to inspire more Ein55 Graduates to reach out the society, helping others who are in need.  More importantly, they have also learned the secrets of making money through investment. When more Ein55 Graduates are successful financially, they could also contribute back to the society to help more people in future.
Here are key learning points from the recent Charity Course on REITs and Business Trusts:
1) Invest for dividend income is one of the important criteria that stock investor must not ignore because historical data shown that
– S&P 500 (1932 to 2014) – dividend contributes to 45% of portfolio return
– STI 30 (2003 to 2013) – dividend contributes to 49% of portfolio return
2) What is REITs (Real Estate Investment Trusts)?
REITs are collective investment schemes that invest in a portfolio of income generating real estate assets such as shopping malls, offices, hotels or serviced apartments and hospitals.  It is also a type of security that can trades on major exchanges like other listed securities.
– Assets of REITs are professionally managed
– Revenues are derived mostly from rental payments, >90%.
– Net income generated from assets must be distributed at least 90%, quarterly to unit holder.
3) What is Business Trust?
Business trust is an investment vehicle structured so that a single company, known as the "trustee-manager", holds and operates business enterprises for the benefit of its investors but the unit holders do not have any operational control or shareholders' rights.  Business trusts allow retail investors to have a direct exposure to cashflow-generating assets, such as utilities, shipping, sea port and it is suited to any businesses involving high initial capital expenditures with stable operating cash flows.
4) 7 Risk factors for REITs & BTs analysis are
– Market Risk and Income Risk which are intervene each other
– Foreign Country risk especial currency exchange rate change
– Concentration risk – depend on single property or few tenants
– Leverage risk – revalue down of asset resulting hit gearing limit
– Refinancing risk – unable to secure new loan or new loan at higher cost
– Liquidity risk – difficult to buy/sell portfolio asset
5) 4 common growth strategies adopting by REIT manager are:
– Acquisition – from sponsor or 3rd party
– Asset Enhancement Initiative (AEI) – shopping mall to increase NLA
– Organic growth – positive rental revision and increase occupancy
– Development & re-development – cap limit increase to 25% from Jan 2017
6) Best timing to Invest in REITs and Business Trusts will be
– Long-term Optimism and Mid-term Optimism < 25%
– Average dividend yield over 8%
We should drive the money (helping others when you are successful), not driven by the money (making money for own gain).  Investors should learn the unique Optimism Strategies with FA (Fundamental Analysis) + TA (Technical Analysis) + PA (Personal Analysis) developed by Dr Tee to choose strong global stocks, buying them at low price, then holding for consistent dividend payout or selling for capital gains.  Free high-quality investment courses are provided by Dr Tee to the public.