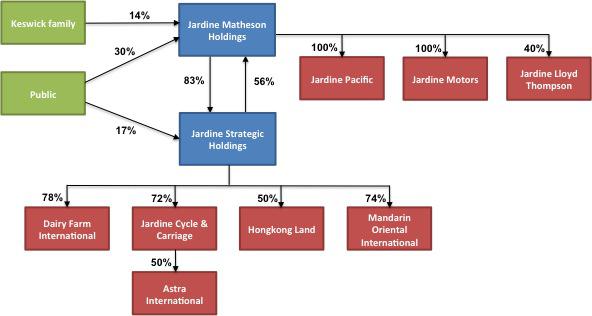 Company A owns Company B. In return, Company B also owns Company A. This is a complex cross-holding of stock network. Let's learn how smart investors in Jardine Group and UOB Group, using the complex structure to hide their undervalue gem of stock.
Jardine is a giant group of stocks with nearly 200 years of history for Jardine Matheson Holdings, originally from China/Hong Kong, then having dual stock listing in London and Singapore stock exchanges. Ein55 Graduates have already considered Jardine Group of stocks: Jardine Strategic Holdings (SGX: JSH), Jardine Matheson Holdings (SGX: JMH), Jardine Cycle & Carriage (SGXL C07), Hong Kong Land (SGX: H78) last year when their Optimism levels were still low, share prices have gone up more than 20% since then when the market fear has subsided.
There is an interesting history for the cross-holding structure for Jardine group (image source: seekingalpha).  Hong Kong richest person, Mr Li Ka-Shing planned to increase ownership in Hong Kong Land in 1980s, the Jardine group with Keswick family defended their control, forming JSH which owns JMH, in return JMH also owns JSH, very hard for any hostile takeover with this complex share structure.
UOB chairman, Mr Wee Cho Yaw also has a similar cross-holding network of stocks under UOB Group. There is a hidden gem in Wee family stock portfolio.  Ein55 Graduates have learned in the last Charity Course (Discounted Asset Stock) on this special stock.  The stock structure is so complex that undervalued stock could not be seen easily.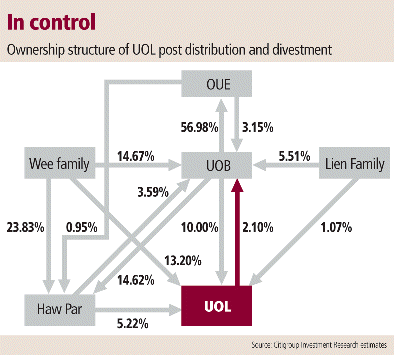 Normal investors could only buy at fair price because they don't know how low is considered low for a share price. Traders would buy at high price, following trend to sell at higher price.  Speculators would consider when there is good news with surge of more than 20%, buying at higher price, hoping to sell at highest price.  Due to difference in entry prices, their reward / risk ratio will be different.
Ein55 Graduates have learned to buy giant stocks at unfair price with low optimism.  For long term investors, some even consider low optimism from level 1 (business), level 2 (sector), level 3 (country) to level 4 (world).
Bonus for Readers:  FREE Investment Courses by Dr Tee
Dr Tee免费华语投资课程


English Investment Course by Dr Tee