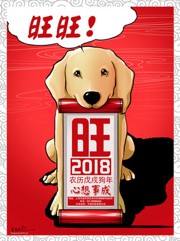 I would like to wish all readers, a Happy Lunar New Year of Dog 2018. If you ask doggie, what is the outlook for 2018? The answer mostly likely is "Wang! Wang!" (旺旺 = "prosperous" in Chinese).
Doggie could feel it because the global economy has been bullish with increasing GDP, higher PMI and lower unemployment rate. Likely doggie could chew on bigger bone for its meals because the master is getting rich as well.
Economy and stock are related as if the Master walks the Dog. Sometimes the dog (stock market) runs ahead of master (economy), sometimes it is behind but they are closely connected.
The master has been chasing the dog uphill for quite a few years, recently the doggie decides to take a rest as it is either too tired or scared when seeing a sign of bear coming from far away. It has to wait for more encouragement and assurance from the master to move forward again. It is possible both the Master and the Dog may turn direction to go downhill as they have been away from the Home (Value) for quite some time.
In the world of stock investment, we need to analyze both fundamental (country economy to company business) and technical (prices from Level 1 individual stock to Level 4 global stock market), understanding the risk of greedy high optimism market and opportunity in fearful low market market.
Enjoy a peaceful Lunar New Year with your dream team stock portfolio!
Dr Tee (Ein55)